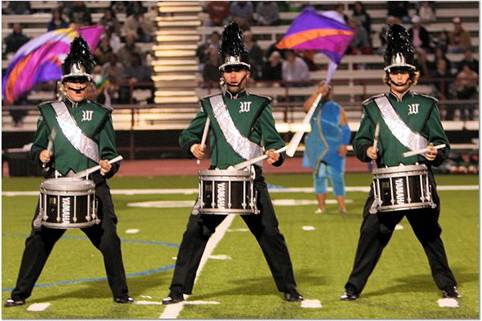 Sticks
· I recommend the Cooperman Nick Petrella General Persimmon Signature Concert Snare Sticks (Model #10). These are great sticks for snare usage and would be used on a regular basis for the rest of their musical career here in Waxahachie.
2 Mallets
· I recommend Encore's Yarn Wound Series Medium Hard Rattan Mallets (32YR). They have lots of articulation without the common "slap" that happens with most hard mallets. These mallets will work for any marimba work you do in your concert band literature. And they will also work great for the 2 mallet Etude for All-Region contests.
4 Mallets
· I recommend Encore's Nanae Mimura Medium Hard Birch Marimba Mallets (NM3B). You will need 2 pair of these.
Timpani Mallets
· I recommend the Vic Firth Tim Genis Molto Articulate (GEN8). These are very articulate mallets as well that will work great for all of their timpani work.
Stick Bag
·
I recommend the Galaxy Humes & Berg Galaxy Grip
Stick & Mallet Bag. It is a bag that stands on its own and doesn't fall over which keeps sticks and mallets safer. But any stick bag will work.
Drum Pad
·
I recommend the Invater Pad by Offworld Percussion. This pad is the best bad on the market and feels the closest to an actual drum.
This is the required stick and mallet list for WISD percussion students in grades 7-12.
WHS Band Percussion Sticks and Mallets